Wednesday, October 24th, 2012
Functionality and energy efficiency inspire patio doors' design.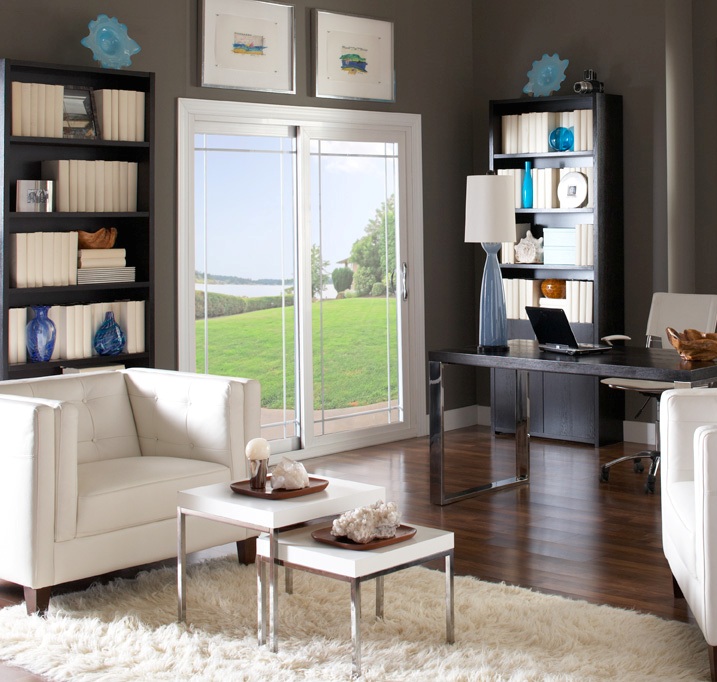 February 14, 2012 – CUYAHOGA FALLS, Ohio – Alside, a leading manufacturer of vinyl windows and siding, is expanding the Promenade™ Patio Doors Collection with the introduction of Contemporary-Style and Classic-Style Sliding Patios Doors. This collection of patio doors is designed to function flawlessly, protecting homes from inclement weather and reducing energy loss while adding exceptional aesthetic value.
"Promenade delivers consumers' "must-haves" in their ideal patio door," said Robert Schindler, senior vice president of marketing for Associated Materials, Inc., Alside's parent company. "Combining beauty, practicality and strength, we've created a collection that's energy efficient with the architectural appeal to fit any home style."
Both Contemporary-Style, with slim 3″ rails, and Classic-Style, with generous 5″ rails, feature a double-wall design and multi-chambered construction for outstanding strength and thermal protection. For easy, quiet operation of the door panel, these patio doors are developed with a precision-engineered tandem roller system. Promenade patio doors will never need painting; and are made with premium vinyl that won't chip, peel, crack or warp.
The two new styles join the popular French Rail door with its 5″ top, 7″ bottom, and 3′ side rails introduced last fall.
Designed with energy efficiency in mind, Alside offers a variety of ENERGY STAR® qualified ClimaTech® insulated glass package options that help reduce the transfer of heat and cold, leading to improved energy savings year round. In addition, added thermal performance features such as dual internal and external weatherstripping and a warm-edge spacer system combine to provide homeowners in any part of the country a thermally-efficient solution.
Promenade Contemporary-Style, Classic-Style and French-Style Sliding Patio Doors are all available in 2-, 3- or 4-panel configurations in a variety of sizes. Homeowners can choose from a solid color doors, interior woodgrain choices, and a collection of decorative glass options. For added visual appeal, cut or polished V-grooved glass patterns and six elegant handle finishes also are available.
For additional information on Promenade Sliding Patio Doors or other Alside products, please visit www.alside.com.
About Alside
Founded in 1947, Alside is a leading manufacturer of vinyl siding and accessories, vinyl windows and patio doors, and fencing and railing products for the residential and commercial remodeling and new construction markets. With headquarters in Cuyahoga Falls, Ohio, Alside has nearly 3,000 employees at seven manufacturing facilities. Alside products are distributed to licensed professional remodeling contractors and home builders through a network of over 100 company-owned supply centers and select independent distributors across the country.
A division of Associated Materials Incorporated (AMI), Alside is a recognized leader in the home improvement industry and is a charter member of the Vinyl Siding Institute, the American Association of Architects, the National Association of Home Builders, the National Association of the Remodeling Industry, and an ENERGY STAR® partner. For additional information on Alside products, please visit www.alside.com and follow us on Twitter at twitter.com/alside.
EDITORS NOTE: Schantz Home Improvement provides all Alside products and installation in the greater Atlanta Georgia area.